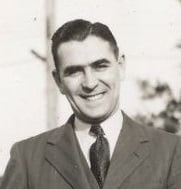 From Northern Ireland. Fellowshipped with the Newtownards assembly.
Norman Crawford said of Sydney, "As an evangelist, his gospel spirit stirred me deeply. As many times as I heard him preach, I never wearied of listening, for he was stirring, awakening, and Christ-exalting in all his preaching. We shared in the joy of many precious souls saved for eternity."
Below are links to Sydney's Bible teaching.
Heavenly Correspondence Or A Ministry Of Blue
Our Occupation With A Man In The Glory
.