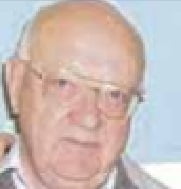 Born Scotland. From Melbourne, Victoria, Australia. Fellowshipped at Glen Waverley Gospel Chapel.
Commonly know as Captain Rodger, as he was captain of the first 200,000 ton Shell Oil Company oil tanker and was appointed as Commodore of the Shell Pacific Fleet. He travelled the world many times and while away often visited missionaries and booked noted overseas speakers for conferences in Australia. He quickly established himself as a leader in the Christian Brethren Assemblies in Victoria and was widely used as a speaker at conferences and other activities. He was for many years head of the Belgrave Convention in Victoria.
Click a link below to listen to Stuart.
Lessons From The Life Of Elijah – Pt1a
Lessons From The Life Of Elijah – Pt1b
Lessons From The Life Of Elijah – Pt2a
Lessons From The Life Of Elijah – Pt2b
The Lord's Coming – 1 Thessalonians – Pt1
The Lord's Coming – 1 Thessalonians – Pt4
Amusing – Keep To The Speed Limit
The Conduct Of The Children Of The Kingdom
The Character Of The Children Of The Kingdom
An Introduction To Revelation – Pt1
Nehemiah – Pt2 – Preparation For The Effort
Amusing – Be Careful What You Wish For
Conditions For Knowing The Will Of God
Holiness – Pt1 – The Plan For Holiness
Holiness – Pt2 – Holy Acceptable
Holiness – Pt3 – Power For Holiness
The Person And Deity Of The Holy Spirit
The Centrality Of Christ In Our Community
The Centrality Of Christ In Our Assemblies
Our Responsibility For Personal Growth
Our Responsibility For Church Growth
Spirituality And The Second Coming
The Word And The Church – Josiah
Amusing – Getting Into The Olympics Free
Amusing – The Man Who Didn't Speak To His Wife For 18 Months
Amusing – The Pope And The Taxi
Amusing – The Golfer With Bad Eyes