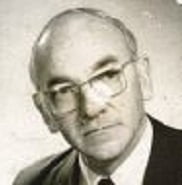 Born Ayr, Scotland. Then NSW, Australia. Fellowshipped at what is now Parkland Christian Chapel, Wodonga, VIC.
Was a missionary to India 1949-1965, where at different times he preached in villages, was principal of Clarence High School, supervised the Noel Memorial Schools in Kumbanad, managed the Rehoboth Girls Orphanage and was the editor of The Indian Christian magazine. In 1970, moved to Albury where he and other men were responsible for establishing the assembly there. It is now called Parkland Christian Chapel.
Click a link below to listen to one of Stewart's messages.
The Witness And Outreach Of The Church
The Tares Of The Field – Parable
Matthew 16:13-20 – different recording to the one above
1 Timothy – Pt1 – Introduction
What Is God's Purpose For Us Now? – Pt4
Amusing – Speaking A Long Time In India
What Does The Bible Say About Job?
bad sound – The End Of The Age – The Destruction Of Jerusalem – The Sign Of His Coming
Prophets – Outline Of The Book Of Daniel – Pt1
Prophets – Outline Of The Book Of Jeremiah – Pt2
Prophets – Outline Of The Book Of Ezekiel – Pt3
Prophets – Outline Of The Book Of Daniel – Pt4
The Last Supper, Trial And Death Of The Lord
The Seven Churches – Pt1 – Introduction
The Seven Churches – Pt2 – Ephesus
The Seven Churches – Pt3 – Smyrna
The Seven Churches – Pt4 – Pergamos
The Seven Churches – Pt5 – Thyatira
The Seven Churches – Pt6 – Sardis
The Seven Churches – Pt7 – Philadelphia
The Ministry Or The Service Of God
The Minister Or The Man Of God
Tom Carson, Ian McDowell And Stewart McNaught – Questions And Answers
Introduction To The Seven Churches – Pt1
The Terms Of Discipleship – Pt1
The Test Of Discipleship – Pt2
The Token Of Discipleship – Pt3
The Tragedy And Triumph Of Discipleship – Pt4