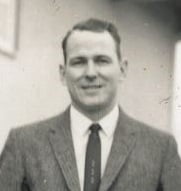 Born in Canada. Then Jackson, Michigan, USA. Fellowships at Jackson Gospel Hall.
Born in Canada of Irish immigrant parents. He was saved as a young boy in Toronto and launched out in full-time service for the Lord at the age of 21, in 1946. His love for souls and for the truth of God led to his preaching the gospel and teaching the truths of the Word of God throughout North America. God used him in planting assemblies, establishing existing assemblies, and as editor of Truth and Tidings magazine for many years. He penned a number of excellent works including: The Gospel of Luke, in What the Bible Teaches; Gathering to His Name, as well as contributing to The Person of Christ. He is highly respected among believers in North America and the UK.
Click a link below to listen to Norman's recordings.
The Return From Babylon – Pt1 – Times Of Awakening
The Return From Babylon – Pt2 – The True Character Of Remnant Testimony
The Return From Babylon – Pt3 – God's Remedy For Cold Hearts
The Return From Babylon – Pt4 – Ezra – The Man Of The Book
The Return From Babylon – Pt5 – Walls And Gates
The Return From Babylon – Pt6 – Devices Of The Devil
Revelation 10:1,5-6, 11:1-3,6-18
Revelation 13:1-5, Daniel 7:1-8, 8:5-11
Revelation 14:1,14-16, 15:1,7-8, 16:1-4,8,10,12,17, 17:3,5,8-12,15-16, 18:1,21
Revelation 21:1-5,9-12,16-27, Isaiah 11:1-11, 65:17-25, Hebrews 7:1-3
Assembly Questions And Answers