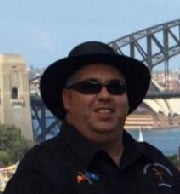 From Sydney, New South Wales, Australia. Fellowships at Macarthur Indigenous Church.
A descendant of the Dunghutti tribe with over 25yrs ministry experience in Aboriginal communities including La Perouse, Karuah, Derby W.A and Campbelltown (western Sydney). He remembers the night he was in a church listening to a preacher who said Jesus Christ was spat upon, beaten, stripped of his clothes, humiliated and died upon a cross because he loved me, paying the price for my sin. He relates to the story because in high school someone spat from a balcony and it landed on his shirt running down his chest. The most disgusting and humiliating experience in his life. Right then he decided if Jesus suffered humiliation and death for him, he has his life and he accepted Jesus Christ as his own personal savior as his Lord and God.
Click the link below to listen to Michael.