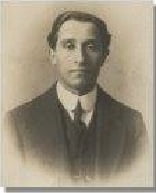 Born Riga, capital Baltic Republic of Latvia. Then London, England. Fellowshipped at South Park Chapel, High Barnet and Berrymede Hall in Acton.
The son of a rabbi. After being saved and baptised, he worked at Mildmay Mission to the Jews. He led many Jews to Christ in those days. Later he was Director of the American Board of Missions to the Jews. At his own 100th birthday celebration and spoke for almost an hour without notes on the Messiah in Isaiah's prophecy.
Click a link below to listen to Mark.