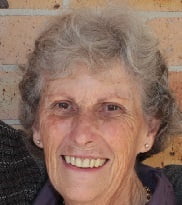 From Sydney, New South Wales, Australia.
Was a missionary to Sudan and a long-time worker with GLO Ministries. She spoke at many ladies' meetings and camps.
Click a link below to listen to Margaret.
Little Ladies In The New Testament
Trust And See That The Lord Is Good
As A Missionary In Chad Her Only Daughter Died – A Woman In Crisis
Pictures Of Christ As Shepherd
What Is God Like? – Wonderful Counsellor
Ruth – Is There Any Good News?
God – Humble And Exalted – Pt1
God – Humbled And Exalted – Pt2
Amusing – I Want To Be A Policewoman
Interesting – Chocolate And Love
Have I Self-Control? – Inside Out