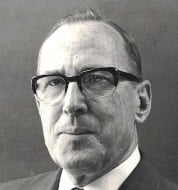 From Sydney, New South Wales, Australia. Fellowshipped at Hebron Hall.
Lancelot Ruthford Saxby was a loved and respected elder and active in all aspects of church life. A gifted Bible teacher who taught throughout the eastern states of Australia and had a wrote 'The Witness' and 'Word and Work'. He was also a lecturer at the Emmaus Bible School.
Click a link below to listen to Lance.
bad sound – They Went In The Way Of Cain – Ancient Light On Modern Problems