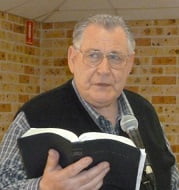 Born Ireland. Now Sydney, Australia. Fellowships at Riverstone Community Church.
Served the Lord full time for about 30 years in India, Zambia and Australia. Has been associated with Gospel Literature Outreach Ministries since 1965. Has been a Bible lecturer at Emmaus Bible College and GLO in Australia, Malaysia and Korea.
Click a link below to listen to Ken.
Do You Know Where You Are Going?
The Work Of GLO – A Renewed Commitment Is Needed
The Feeding Of The Five Thousand
God's Wonderful Reconciling Grace
Five Steps To Basic Godly Living
poor sound – Rejection Or Acceptance
poor sound – Salvation Is Of The Lord
poor sound – Barnabas – The Encourager
The Christian And The Lord's Return
VIDEOS
PDF
اردو – مسیحا کا مشن – یوحنا – The Mission Of The Messiah – Urdu translation