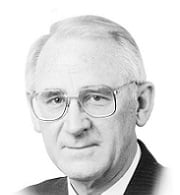 Born Leeton, New South Wales, Australia. Now Orange. Fellowships at Orange Bible Fellowship.
Saved under his dad's preaching at 15 years old. Later preaching and lecturing in Bible Colleges while working in a secular job. He joined Herald of Hope in 1998 and was asked to be editor that year. Is now involved in a writing ministry. Three of his books are The Bible Prophecy Handbook, the Basics of Bible Prophecy and Eternity to Eternity. Several books have been translated into languages, such as Chinese, Burmese, Vietnamese, Spanish, Afrikaans and Malayalam. Eternity To Eternity is downloadable at the bottom of this page, as a PDF.
Click a link below to listen to John.
The Rapture Before The Tribulation
Russia, The Muslims And Israel
The Russian And Moslem Alliance
Europe – The New World Superpower
incomplete – Finding The Future – Pt1 – The Signs Of The End Of The Age
Finding The Future – Pt2 – Russia And Islam In The Last Days
Finding The Future – Pt3 – Will The Church Go Through The Tribulation?
incomplete – Finding The Future – Pt4 – The AntiChrist And Europe
Finding The Future – Pt5 – What Lies Ahead For Israel?
The Calamity of Calvinism – Pt1
The Calamity of Calvinism – Pt2
A Review Of International Trends Related To Prophetic Scripture
PDF of the book – Eternity To Eternity
PDF of the book – The Day Of The Lord – Joel's Prophecy
PDF of the book – The Basics Of Bible Prophecy
PDF of the book – Seventh Day Adventism Weighed And Found Wanting
PDF of the booklet – The Catholic Crisis
PDF of the book – The Big Picture Of Church History
PDF of the book – Tradition Or Truth – Spanish