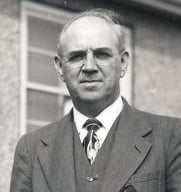 Born Wales, United Kingdom.
Went to India as missionary in 1920 commencing work in Bangalore, later moving to Trichur in Kerala state where he and his wife served the Lord for 40 years. They were involved in developing the orphanage at Trichur which still continues today. He travelled the globe and had an extensive oral and written Bible teaching ministry.
Click a link below to listen to Jim's Bible teaching.
The Four Contrary Voices In The Shipwreck
The Olivet Discourse – The Final Week
The Final Week – Olivet Discourse
The Final Week – Olivet Discourse – Pt2 – starts partway through
Brought To Life – Raised To Life – Created In Christ – Gospel
The Blood The Head The Legs And Inward Parts Of The Lamb