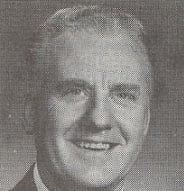 Born Blantyre, Scotland. Then Canada. Fellowshipped at Queenston Street Gospel Hall, St. Catharines, Ontario.
Travelled both to preach the gospel and teach the saints. This was his true life's work: to take God's Good News around the world. He travelled extensively in Asia, Africa, Europe and North America, preaching "the unsearchable riches of Christ." He was a long-time writer and editor for Christian periodicals (including Food for the Flock, Counsel and Uplook), and for many years was a regular speaker on the Family Bible Hour radio broadcast. He also authored several books.
Click a link below to listen to J Boyd.
Living For Christ In The Last Days
Risen With Christ At The Resurrection
Standing Before Christ At The Judgement Seat
Rejoicing With Christ At The Marriage
Reigning With Christ In The Kingdom
Dwelling With Christ In The Eternal Age
Is It Really So Wonderful To Be Saved And Is It Really So Terrible To Be Lost? – Pt1
Is It Really So Wonderful To Be Saved And Is It Really So Terrible To Be Lost? – Pt2