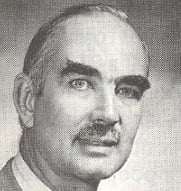 Born India. Then Canada.
At 21 years of age, became the youngest doctor in Scotland. Was a founder of Kawartha Lakes Bible College and one of its most loved teachers. Retired at age 60 to devote himself more fully to the Lord's work. James travelled throughout many countries teaching The Word.
Click a link below to listen to James.
The Lord's Death – Its Relevance And Meaning
Christ-like Features In Our Daily Lives
Amusing – A Church That Needed A Minister
Amusing – A Circuit Riding Preacher Buys A Horse
The Great Tribulation And The Battle Of Armageddon
The Holy Spirit – The Person And Purpose – Pt1
The Earnest And Sealing Of The Holy Spirit – Pt2
The Fruit Of The Holy Spirit – Pt3
The Holy Spirit – A Letter, A Slave And His Master – Pt4
The Filling Of The Holy Spirit – Pt5
The Gifts Of The Holy Spirit – Pt6
Amusing – A Cock And Bull Story
The Judgement Seat Of Christ And The Marriage Of The Lamb – Pt2
The Return Of Christ To Earth – Pt3
How When Or Where Will The End Happen? – Pt4
Stewardship – Pt3 – The Body And Possessions
Stewardship – Pt4 – The Body And Possessions
The Principles Of Christian Living – Pt1
The Power Of Christian Living – Pt2
The Principles Of Christian Living – Pt3
The Principles Of Christian Living – Pt4
The Priority Of Christian Living – Pt5
Lessons From Abraham And Lot – Pt2
Spiritual Gifts – Pt1 – Definition And Categories
Spiritual Gifts – Pt2 – The Wonder Of The Body
Spiritual Gifts – Pt3 – Discovery And Definition
Spiritual Gifts – Pt4 – The Greatest Of These Is Love
The Second Coming And Prophecy – Pt1
The Second Coming And Resurrections – Pt2
Our Responsibility To Our Family – Pt1
Our Responsibility To The Local Church Family – Pt2
Haggai – Pt1 – The Right Priorities
Haggai – Pt2 – Cheer And Encouragement
Practical Aspects Of Prayer – Pt1
Practical Aspects Of Prayer – Pt2
The Wonder Of Belonging To The Flock
Family Likeness

Family Heritage