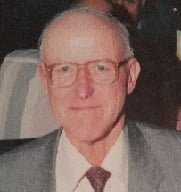 Born Castlederg, County Tyrone, Northern Ireland. Then Sydney, New South Wales, Australia. Fellowshipped at the Botany assembly, Reiby Hall and Camden Christian Fellowship.
Frederick Howard McKeown was always known as Howard. He was involved in assembly ministry in Sunday School teaching, assembly teaching, ministry and gospel preaching. He transported children to Sunday School and he took delight in picking up people without transport and bringing them to meetings. He and his wife were hospitable and their home was open to countless visitors. In his retirement he taught Scripture in schools.
Click the link below to listen to Howard.