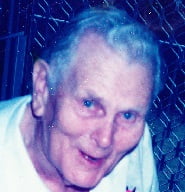 BornSydney, Australia. Fellowshipped at Abbotsford Gospel Hall.
Was wonderfully saved from a life as a honky-tonk pianist to a life of playing lively piano at Abbotsford Gospel Hall. He was known as Uncle Horrie to all the children of the area, bringing many to Sunday School and he taught scripture.
Below are choruses he wrote for Sunday School. He wrote the music and lyrics.
Click a link.
His Name Shall Be Called Jesus
More Than All The Silver In The Mountains
Only Jesus Ever Healed A Broken Heart