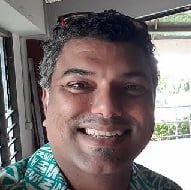 FromFiji. Fellowships at Samabula Gospel Chapel.
His ministry experience includes bible teaching (across Fiji, Guam, Hong Kong, India, Indonesia, Kiribati, Marshall Islands, Nauru, Nepal, New Zealand, Samoa, Tonga, Tuvalu, Australia, Singapore), church planting, administration and finance, serving on various advisory and governance committees; and documenting the Brethren movement in Fiji. He is the Regional Director for Emmaus Bible School and The Mailbox Club Bible Courses in Fiji. He is a regular contributor to Christian Brethren magazines including Echoes of Service, Harvest Times, Partnership Perspectives, a writer of targeted gospel tracts and a speaker at national and international Brethren conferences.
Click a link below to listen to Nilesh.
The Church – Pt2 – Attacks on the Church
The Church – The Attacks On The Church – Pt3 – Sin, Confession And Forgiveness
The Church – Pt4 – The Attacks on the Church – Links Between Personal And Corporate Sin
Spiritual Sleep And Lethargy – Pt1
Spiritual Lethargy and Sleepiness – Pt2
Anna – A Life Well Spent – Pt1
Anna – A Life Well Spent – Pt2
Anna – A Life Well Spent – Pt3
PDFs
Basic Biblical Truths about the Church