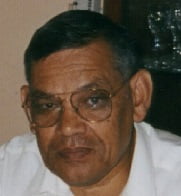 Born Capetown, South Africa. Then Sydney, New South Wales, Australia. Fellowshipped at Bexley Gospel Hall.
George was involved in many ministries. His passion for preaching the gospel started from the age of 17 in Capetown in open air gospels. His last gospel message was given at Abbotsford Gospel Hall. He was involved in preaching the gospel at various brethren assemblies. At Bexley he was the superintendent of the Sunday school, Boys Rally Leader and camp leader. He started the Lucas Heights Bible Club where he saw a need in the large housing commission estate in Menai. Over the course of ten years he taught over 300 children and their families the good news of the gospel.
Click a link below to listen to George.
The Preciousness Of God's Thoughts Towards Us
Heaven, Hell And God's Salvation
Today – If You Hear His Voice, Harden Not Your Heart
The Question Of Being Born Again

Being Willing To Accept God's Way
God Is Not Willing That Any Should Perish
What Is Your Inheritance Expectation?
Abraham's Call, Conduct And Concern
Hearing And Acting On The Word Of God
Our Approach To The Word Of God – bad sound