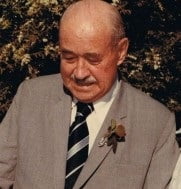 Born England. Then Maryborough, Queensland, Australia.
A missionary who preached The Word in England for 4 yrs, then served the Lord for 28 yrs in China and 17 yrs in Borneo. A story in a Brethren missionary magazine, tells of preaching in a market town in the mountains called Si-shang. "In the evening, hanging up a pressure lantern and with a large meat block making a convenient pulpit, we started off with accordian accompaniment to sing the Gospel. The people began to collect and presently with a great crowd listening we preached the Gospel till we were hoarse. They listened very well indeed and then asked for more. "Preach a little more to us- we still want to hear more!" So we preached again and then sold a number of gospels." Later on in the article, he says in regard to the whole trip- "How one's heart ached to be able more adequately to reach them with the life-giving message." (Pucknell, 18/12/1948, Kiangsi Echoes). He really studied the Word and then explicitly taught it.
Click a link below to listen to Fred.
The Essentials For Pleasing God – Pt1 – Wholehearted Obedience
The Essentials For Pleasing God – Pt2 – Absolute Submission
The Essentials For Pleasing God – Pt3 – Complete Separation
The Essentials For Pleasing God – Pt4 – Unreserved Surrender
Things Concerning Our Lord Jesus Christ – Pt1 – His Virtuous Life And Splendour Of His Transfiguration
Things Concerning Our Lord Jesus Christ – Pt2 – The Purpose And Significance Of His Death
Things Concerning Our Lord Jesus Christ – Pt3 – His Resurrection