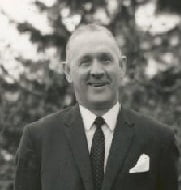 From Treherbert, South Wales. Fellowshipped at Trinity Gospel Hall, Treherbert.
A Bible teacher, mainly throughout England and Scotland, then in Ireland, then across the Atlantic and finally, Australia. He delighted in the deep things of God. He liked and used charts, and these he designed and constructed himself, including ones on the Tabernacle, the Feasts of Jehovah, Matthew's Gospel and the Revelation.
Below is a list of Fred's recordings. Click on the title below that you want to listen to.
God's Purpose – Reconstruction In Nehemiah
The Word Of The Lord Answering Ahaziah
Hebrews 10:35-39, 11:1-2, 12:1-2
The Word Of The Lord Concerning Ahab
Behaviour That Is Becoming In The House Of God
Matthew 28:5,18,20, Nehemiah 11:24
More Than Conquerors Through Him That Loved Us
bad sound – The Flight Of The Prophet
The Shepherd King In The Gospel Of Matthew
Elijah – The Conflict On Mt Carmel