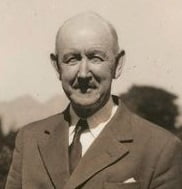 Born Braddox, Monaghan, Ireland. Fellowshipped at the Ormeau Road Gospel Hall, Northern Ireland.
In 1925 he went into full time service for the Lord. He had many tent meetings all over North of Ireland, where he preached to thousands and many souls were saved. He was a tireless door to door worker, greatly loved and highly esteemed among Brethren circles in Northern Ireland and abroad. He travelled to Canada, Australia and New Zealand. He was a Father in the faith to Des and Dorothy Baird who followed him almost everywhere he spoke.
Click a link below to listen to Frank's Bible teaching.
The Last Day Of The Feast Of Tabernacles
Report Of His Visit To New Zealand
bad sound – The Wise And The Unwise