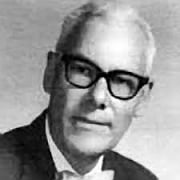 Born Ontario, Canada.
A Canadian theologian and missionary. A co-founder of Emmaus Bible College in Dubuque, Iowa. Some of the correspondence courses he wrote remain part of the curriculum to this very day. He also founded Kingsway Academy, a Christian school in Nassau, Bahamas and was a founding board member of another Christian school, The King's Academy in West Palm Beach, Florida. He planted nine Open Brethren churches throughout Canada and the United States. The recordings we have of him were Emmaus audio cassettes, which Emmaus has kindly given us permission to use.
Click a link below to listen to Ernest.
Guide To Christian Growth – Pt1
Guide To Christian Growth – Pt2
Guide To Christian Growth – Pt3
Guide To Christian Growth – Pt4
Guide To Christian Growth – Pt5