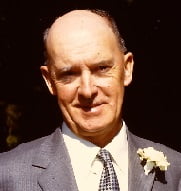 Born Midlands, England. Then Yankalilla, South Australia, Australia. Fellowshipped Unley Gospel Chapel.
As a result of an experience he had in the war, he dedicated his life to serve the Lord full-time, which began when we left Tasmania as a family in 1958. Mum and Dad travelled in a car and caravan for 37 years around Australia, and a couple of trips to USA and Canada, in itinerant preaching, taking home Bible studies and reaching out in evangelism wherever the opportunity came. He represented Capernwray Missionary Fellowship He faithfully served the Lord until he was in his 80's, even taking Bible studies in his nursing home and giving away his book "I can't but God can" to as many as he could.
Click a link below to listen to Dudley.
Live Out The Life We've Received
The Type Of People God Is Looking For
Two Sides Of The Coin – God's Side
Two Sides Of The Coin – Man's Side