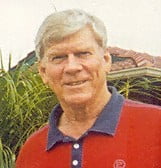 From Brisbane, Australia. Fellowships at Murarrie Community Church.
Went from Australia to serve God in Thailand, and from there to many other countries around the world. He started Bridgeway Publications for his books, some of which have been translated into more than forty languages.
Click here to go to Bridgeway's website.
Click a link below to listen to Don.
The Bible Story In The Old Testament Period – Pt1
The Bible Story In The New Testament Period – Pt2
The Bible Story In The New Testament – Pt3
Nahum – The Goodness And Severity Of God
bad sound – Bridgeway Publications Report
An Overview Of Proverbs – Pt2 – Words And Neighbours
David's Flight From Saul – Pt1
David's Behaviour In Philistia – Pt2
David's Conquest Of Jerusalem – Pt3
The Way Ahead For The Local Church – Pt2
Jesus Marched To Herod – incomplete
Report On His World Evangelism
World Evangelism In The Twentieth Century
Salvation Only Through Jesus Christ
Jeremiah – Life, Times And Problems
Report On The Lord's Work In Eastern Europe
Othniel, Shamgar, Ehud And Deborah
Zephaniah – Justice Asserted – God Will Punish Jerusalem
Habakkuk – Justice Queried – How Can God Use Babylon To Do It?
Evangelists, Pastors And Teachers
Distribution, Recognition And Development Of Spiritual Gifts
Prayer As Requests Or Petitions
Salvation – Its Nature And Fruits – Pt1
Relationships – In Society, Home And Church – Pt2
Suffering – The Right Cause And Spirit – Pt3
Don Fleming – A Wise Man Talks About Sex – Pt2
Speech And Social Concern – Pt3
John Mark – The Young Man – Pt1
John Mark – The Gospel Writer – Pt2
Not Under The Law But In Christ – Pt2
The Call Of Ezekiel – A Message From God – Pt1
Weak Leaders Bring Disaster – Pt3
The Prospect Of A New Era – Pt5
God Living Among His People – Pt6
Vows – Be As Good As Your Word
Tithes – Look After God's Servants
Let The Bible Speak For Itself – Pt1
Let The Bible Speak For Itself – Pt2 – Interpreting The Bible – A
Let The Bible Speak For Itself – Pt3 – Interpreting The Bible – B
Let The Bible Speak For Itself – Pt4 – Teaching The Bible – A
Let The Bible Speak For Itself – Pt5 – Teaching the Bible – B
Let The Bible Speak For Itself – Pt6
How To Understand And Interpret The Bible – Pt1
How To Understand And Interpret The Bible – Pt2
Questions On Interpreting And Teaching The Bible
How To Teach The Bible To Non-Christians
Don & Gae Fleming's Full-Time Ministry For 40 Years To 1995
Joel 2 – Revival For Today – Pt3