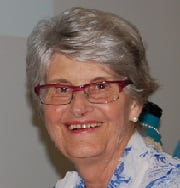 From Sydney, New South Wales, Australia. Fellowships at Kings Park Community Church.
Worked tirelessly to with Christian Youth Camps, especially with Ladies' Houseparties and camps.
Click a link below to listen to Dawn.
How To Be Sure You Have Eternal Life
Trusting God's Plan, Way And Timing
Communicating With Different Ages
Testimony – The Lord's Help Through Difficulties
Amusing – Catching Up On Sleep
The Holy Spirit – Pt2 – How Does He Work Today?
Poem – If Jesus Came To Your House To Spend A Day Or Two
Communicating The Good News – Pt2
Seeing Ourselves As We Really Are – Joseph
Plots And Plans – Pt2 – Esther
Amusing – The Little Boy And The Honour Roll