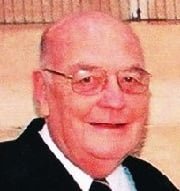 From Sydney, New South Wales, Australia. Fellowshiped at Abbotsford Gospel Hall.
Was a long time elder of the above assembly and a keen Boy's Rally leader and Sunday School teacher. The recordings of him were made at Bexley Gospel Hall and he also spoke at Balmain quite often.
Click a link below to listen to David.
Let Our Service For The Lord Be Wholehearted And With A Willing Heart
Ruth – The Importance Of The Right Decision
The Lessons To Be Learnt From Abraham's Life
The Son Of Man Came To Seek And Save The Lost
Being Sure Of An Abundant Entry As We Know And Grow In Christ
Knowing The Wonderful Experience Of Being Saved
Stand Fast In The Liberty Wherewith Christ Has Set Us Free
Knowing The Lord Jesus As Saviour Is What Matters
The Wonder Of Man, Christ Jesus
Rejoice In The Lord And Be Anxious For Nothing
Things We Can Be Absolutely Sure Of
Knowledge – Four Things God Wants Us To Know