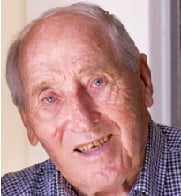 Born Motherwell, Scotland. Then Corrimal, New South Wales, Australia. Fellowshipped at Corrimal Gospel Chapel.
He did a lot of ministry, especially in his latter years with international students from the Wollongong University who attended the services. Many were saved during this time, many returned to their homes, others have stayed and are now residing in the area, attend services regularly. His home was always open to anyone visiting the chapel on Sunday mornings.
Click a link below to listen to Dan's recordings.
Is There A Word From The Lord? – True And False Prophets
Beware Of Self Will, Self Interest And Self Importance – Loved And Kept Of God
Report On Work Among Overseas Students In Corrimal
Where Do You Stand With Christ?