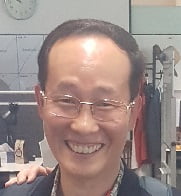 Born Andong, South Korea. Now Sydney, New South Wales, Australia. Fellowships at Sydney Northside Gospel Church.
Saved in Seoul, Korea in 1988. Came to Australia in 1997. Serving a little Korean-speaking assembly at Beecroft by preaching, teaching and local outreach work.
Click a link below to listen to Dae Young.
Children Of God – By Deception
By Their Fruits Ye Shall Know Them
Unless You Repent, You Too Will Perish
Ye Cannot Serve God And Mammon
Josiah – Having A Tender Heart Towards God
The Importance Of Trusting In The Lord
Presenting Our Bodies A Living Sacrifice
How Should A Christian Behave?
Jesus – The True Bread Of Life
The First Century Gospel Is Still Needed For Salvation
Ignoring God's Word Brings Serious Consequences
The Deep Things Of God Can Only Be Discerned Through The Holy Spirit
Have You Ever Realised Your Need?
The Urgency Of Choosing To Know The Lord Jesus
An Overview Of Daniel – God Is Sovereign And Glorified
God's Provisions For Man's Condition
The Only Way To Find True Rest
Are You A Rebel In God's Sight?
Onesimus – The Characteristics Of A Useful Christian – Philemon
Christ Has The Ultimate Answer To Death
Why Do Christians Gather Together?
Alive Or Dead In Christ's Sight
Nevertheless I Have Somewhat Against Thee
Three Reasons Why God Sent The Lord Jesus
Is Our Service Done To The Best Of Our Ability?
Being A Useful Christian – Philemon
Being A Refreshing Christian – Philemon
Do We Show Genuine Love To Those We Meet?