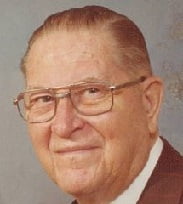 Born Featherstone, England. Then Toronto, Canada. Fellowshipped at the Broadview Avenue Gospel Hall.
At work he sought to live and confess Christ before those with whom he worked. He was involved in Sunday School work, tract distribution, open air meetings and other gospel activities. His love for souls, his gift in preaching the gospel and God's personal dealings with him, convinced him that God was calling him to full time service and was commended by his assembly in 1921. 1921-1951, he labored constantly in the gospel, holding four to seven series of meetings each year in tents, portable halls, rented buildings, private homes and in gospel halls. He put his whole heart and soul into the work of the Lord, wearing his body out in the Lord's work. In 1948, he began to edit and publish the magazine Truth and Tidings and was editor for 25 years, writing articles, proofreading, editing and generally overseeing all the phases of the magazine whether at home or away.
Click a link below to listen to A W Joyce.