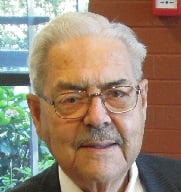 From Sydney, New South Wales, Australia. Fellowshipped at Bankstown Gospel Hall.
From a young age was known for his strong singing voice. Arthur was saved in 1945 at a Collaroy CYC Camp and baptised in 1947. Over time he took on more responsibility in the assembly at Bankstown, teaching Sunday School and driving the bus (which he did for over 50 years), running boys rally, preaching and was an elder. His involvement and love for the church and his Savior were there for all to see.
Click a link below to listen to Arthur.
Our Similarity To The Situation Of The Ten Lepers
When Are You Going To Meet The Lord Jesus?
The Importance Of Making The Right Choice
The Invitation And The Last Call
The Urgency Of Heeding God's Call Before It Is Too Late
Has God Found You? – Have You Found The Lord Jesus?
The Soon Coming Of The Lord And What The Unsaved Will Miss