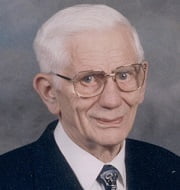 From Killmore, Northern Ireland. Fellowshipped with the Lurgan assembly.
Served the Lord by preaching and teaching for over fifty years. He often took up passages rarely ministered on, often classified as "difficult" and would break these down into simple, easily understood, terms.
Click a link below to listen to a recording of Albert.
True Deliverance – Getting Back To The Start – Gideon
A Man Raised By God Also Making A Vow To God
Being The Man God Wants You To Be
Lack Of Spirituality In The Lord's People
Malachi 1:1-4,8-9, 2:10-11, 3:16-18, 4:4