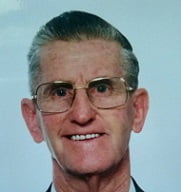 Born Donnemana, Co Tyrone, Northern Ireland.Then Old Bonalbo, New South Wales, Australia. Fellowshipped at the Old Bonalbo assembly.
Saved at the age of 17 after he came to Australia in Joffrey St Gospel Hall, Hurstville, Sydney. He travelled to many places around Australia ministering the Word, and encouraging many. He preached the gospel and was Sunday School Superintendent of a large Sunday School at Old Bonalbo for many years. He was involved in outreach to many with the gospel around the country, and had a good rapport with the Aboriginal people in Woodenbong and Tabulam areas. He enjoyed Open Air preaching.
Click a link below to listen to Albert.
FOUR DIVINE REVELATIONS TO PAUL