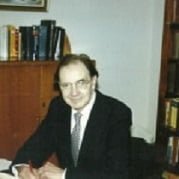 From Cardiff, England. Then Bristol.
Primarily a Bible teacher who taught in churches all over the UK as well as in some trips abroad to Australia, Canada and Hong Kong. His teaching relied on prayerful dependence on God and disciplined systematic Bible study.
Click a link below to listen to Alan.
Paradoxes Of The Christian Faith – Pt1 – Living Though Dead
Paradoxes Of The Christian Faith – Pt2 – Strong Though Weak
Paradoxes Of The Christian Faith – Pt3 – First Were Last
Paradoxes Of The Christian Faith – Pt4
The Glorious Gospel Of The Blessed God
Spiritual Leadership In The Church – Pt1
Spiritual Leadership In The Church – Pt2
Basic Christianity – Pt1 – The Cross Of Christ
Basic Christianity – Pt2 – The Mind Of Christ
Basic Christianity – Pt3 – The Diety Of Christ
Basic Christianity – Pt4 – The Humanity Of Christ
Basic Christianity – Pt5 – The Death Of Christ
Basic Christianity – Pt6 – The Resurrection Of Christ
Basic Christianity – Pt7 – The Body Of Christ
Basic Christianity – Pt8 – The Spirit Of Christ
Basic Christianity – Pt9 – The Return Of Christ
Barnabas – Son Of Encouragement
The Church And Its Worship – Pt1
The Church And The World – Pt2
The Rational Basis Of Christian Belief
The Glorious Gospel Of The Blessed God
Introducing Jeremiah – Pt1 – The Call Received
Jeremiah – Pt2 – The Conduct He Approved
Jeremiah – Pt3 – The Challenge He Issued
Jeremiah – Pt4 – The Cost He Incurred
Jeremiah – Pt5 – The Confidence He Maintained
Jeremiah – Pt6 – The Covenant He Proclaimed
The Relationship Of Truth And Experience
The Christian And His Emotions – Pt1
The Christian And His Mind – Pt2
The Christian And His Body – Pt3
The Christian And His Will – Pt4
The Christian And His Personality – Pt2
Ephesian Themes – Pt1 – The Church
Ephesian Themes – Pt2 – The Holy Spirit
Ephesian Themes – Pt3 – Prayer
Ephesian Themes – Pt4 – Christian Conduct
The Way Ahead For The Local Church
Elijah And The Widow – Pt1 – The Lessons Of Zarephath
Elijah And The Contest On Mt Carmel – Pt2